Date of last amendment of the document: January 3rd, 2022
ARTICLE 1. PREAMBLE
As data controller, we are very attentive to the privacy of our interlocutors and are committed to ensuring the protection, confidentiality and security of their personal data.
As such, the purpose of this privacy policy is to inform you of our practices regarding the collection and processing of your personal data, carried out in compliance with the regulations in force regarding the protection of personal data and in particular the provisions of the "Data Protection Act" of 6 January 1978, as amended by the Act of 20 June 2018, and the General Data Protection Regulation (EU Regulation 2016/679) (hereinafter the "Regulations").
ARTICLE 2. DEFINITIONS
Capitalized terms in this Privacy Policy shall have the meanings set forth below, whether used in the singular or plural:
« Cookie »: means the file recorded and/or read by your browser on your terminal, when your terminal, or any other connected object, is connected to the website (computer, smartphone, touch pad, etc.);
« Applicant »: means anyone who wishes to apply for a position that may be of interest to us;
« Client »: means any natural or legal person with whom we contract to provide, at their request, our legal services;
« Data »: means the personal data of the Data Subjects, i.e. information enabling them to be identified directly or indirectly, collected and processed in particular when using the Website to request contact, register for our publications, send an application, etc.;
« Supplier »: means the contact of the natural or legal person providing goods or services to us;
« Publications »: means our newsletters and/or articles to which you have registered and/or subscribed in order to receive them directly in your inbox, i.e. newsletters, news bulletins etc. ;
« Third Countries »: means any non-EU Member State which does not benefit from an adequacy decision in accordance with Article 45 of the GDPR ;
« Data Subject »: means any person whose Data is processed under our responsibility;
« Privacy Policy »: means this privacy policy intended to inform you, in your capacity as "Data Subject", (i) of the characteristics of the processing of your Data collected and processed when using the Website and/or in the context of our activity and (ii) of the commitments we make, in our capacity as Data Controller, to respect your Data and to allow you, where applicable, to exercise the rights conferred on you by the Regulation;
« Prospect »: means any person identified as potentially interested in our legal services, and who has not become a Client;
« Lem&Co Social Networks » : refers to all the social networks managed by us and relayed by the Website, namely :
– LinkedIn accessible at (to be completed) ("LinkedIn") or any other URL relating to content produced or controlled by us;
« Data Controller »: means Lem&Co which determines the purposes and means of the Data processing;
« Us »: means Lem&Co, the data controller;
« Website »: means the web pages accessible via the following url addresses: "www.lem-co.com", "www.lem-co.fr" and "www.lem-co.africa", 7 days a week, 24 hours a day, subject to interruptions necessary for technical maintenance, servicing and updating operations that we may deem necessary;
« User »: means any person who uses the Website.
ARTICLE 3. CONTACT DETAILS OF Lem&Co AND THE CONTACT POINT
Lem&Co, a sole proprietorship (société d'exercice libéral d'avocats à responsabilité limitée unipersonnelle), registered with the Paris Trade and Companies Register under number 894 851 450, located at 15 avenue Raymond Poincaré, 75116 Paris, is responsible for all the processing described in the Privacy Policy.
If you have any queries relating to this privacy policy or wish to exercise your rights, please send an email to contact@lem-co.com.
ARTICLE 4. MODALITIES OF PERSONAL DATA COLLECTIONS
(a) Direct Collection
As Data Controller, we collect and process two (2) categories of Data:
4.1 Identification Data
In order to send a contact request, to open a file or to request registration for Publications, we require identification data, in particular the surname, first name, home address, postcode, email address and telephone number.
In the contact forms on the Websites, only the fields marked with an asterisk (*) are compulsory in order to enable us to contact you and send you our Publications.
If you do not answer these fields, your request cannot be processed.
The answers in the fields not marked with an asterisk (*) are optional.
4.2 Professional Data
In order to send a contact request, to open a file or to apply for a job, we require identification data such as surname, first name, e-mail address, telephone number, postal code, city, as well as data relating to level of education, years of professional experience, position held, salary expectations and the provision of a curriculum vitae.
(b) Indirect Collection
In the course of our work for our Clients, we also collect certain personal data indirectly through them.
The data collected in this way are those strictly necessary for the performance of our assignments, and are listed hereafter: client identification data, data relating to files, e-mail address, postal address, telephone number, etc.
In the context of the recruitment of candidates, we may also collect Data indirectly, in particular through recruitment platforms.
The data collected this way is that which is strictly necessary for the accomplishment of their missions and is listed below: surname, first name, e-mail address, postal address, telephone number, data relating to the level of education, years of professional experience, the position held, salary expectations and the provision of a curriculum vitae.
ARTICLE 5. DATA SUBJECTS AND CHARACTERISTICS OF THE PROCESSING
As a Data Controller, we collect and process Data relating to the categories of persons and according to the characteristics listed below.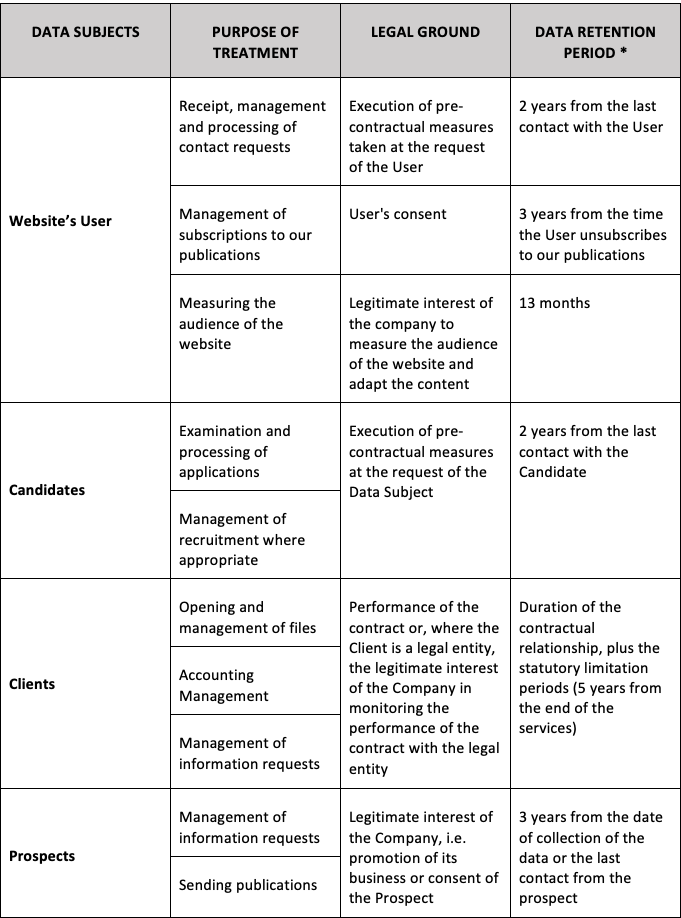 * At the end of these retention periods, your Data will be archived in a secure manner for the necessary retention and/or prescription periods resulting from the applicable legislative or regulatory provisions. At the end of these periods, your Data will be deleted, in accordance with the regulations in force.
ARTICLE 6. DATA PRIVACY AND SECURITY
We adopt sufficient, appropriate and relevant security measures to preserve the security of your Data and in particular to prevent it from being distorted, damaged or accessed by unauthorised third parties.
These measures are monitored and checked and updated regularly, taking into account the context of the processing and the level of risk identified, according to a rigorous approach.
ARTICLE 7. DATA RECIPIENTS AND DATA TRANSFERS OUT OF THE EUROPEAN UNION
The Data is strictly for our own use by our employees and specifically authorised technical personnel for the purposes listed in Article 5.
We may share some of the Data with our partners and those with whom we work to process your requests, subject to your consent at the time of collection of your Data. They are required to maintain the confidentiality and security of the Data that may be disclosed to them and to use it only in the course of carrying out their subcontracting or servicing responsibilities.
We guarantee that your Data will not be disclosed to any unauthorised third party without your consent.
We do not sell or rent your Data to third parties.
Under special circumstances, we may disclose Data when required to do so by judicial and administrative authorities.
We transfer Data to Third Countries in which some of our partners are located, with whom we have entered into standard contractual clauses, or subject to signing standard contractual clauses and implementing additional measures to ensure that the US does not undermine the substantially equivalent level of protection guaranteed by the GDPR (Privacy Shield Invalidation Ruling, CJEU, 16/07/2020 C-113/18, SCHREMS II).
ARTICLE 8. ACCESS TO Lem&Co's SOCIAL NETWORKS
The Website allows access to our Social Network pages by clicking on the tabs on the Website.
This access requires that you also accept the privacy policies of these social networks, independently of the Privacy Policy, which are available at the following addresses:
– LinkedIn Privacy Policy : https://www.linkedin.com/legal/privacy-policy?_l=fr_FR.
ARTICLE 9. COMPUTER RIGHTS AND FREEDOMS
In your capacity as "Data Subject", you have the rights listed below:
– a right of access, i.e. to obtain confirmation as to whether or not your Data is being processed and, where it is, access to the Data, as well as various information including the purposes of the processing, the category of Data concerning you, the recipient(s) of the Data etc.
– a right to rectify, as soon as possible, any Data concerning you that are inaccurate, incomplete, outdated or equivocal, or whose collection and processing are prohibited;
– a right to object to the processing of Data by the Data Controller or to a transfer of Data, unless there are compelling legitimate grounds which override your interests;
– a right to the erasure of your Data for the following reasons:
The Data is no longer necessary for the purposes for which it was collected or processed;
You have withdrawn the consent on which the processing was based, and there is no other legal ground for processing your Data;
You object to the processing of the Data and there is no overriding interest in carrying out the processing;
The Data has been processed unlawfully;
The Data must be erased in order to comply with any legal obligation we may have;
The Data was collected when the Data Subject was a minor.
– a right to organise in advance and during your lifetime the conditions under which you wish your Data that we have collected and processed to be kept and communicated after your death;
– a right to Data portability and retrieval allowing you to receive the Data you have provided to us in a structured, commonly used and machine-readable format, and to transmit it to another Data Controller, without us, as the Data Controller to whom the Data was originally provided, being able to prevent this.
If you wish to exercise any of the above rights, you may send your request:
– by e-mail to the following address: contact@lem-co.com ;
– by post to the following address Lem&Co, 15 avenue Raymond Poincaré, 75116 Paris;
In the event that you exercise any of these rights electronically, the Data will be provided to you electronically where possible, unless you have specifically requested otherwise.
In the event that you consider that our exchanges have not been satisfactory, you have the possibility of lodging a complaint with the Commission Nationale de l'Informatique et des Libertés (CNIL), the national supervisory authority in charge of compliance with obligations in terms of personal data protection.
ARTICLE 10. COOKIES
Cookies are small files which do not allow the identification of the User but which record information relating to navigation on a website.
(a) Strictly necessary cookies ("technical cookies")
Some Cookies are used exclusively to enable or facilitate communication by electronic means or are strictly necessary for the provision of online communication services at the express request of the User. In accordance with Article 82 of the LIL, the User's consent is not sought for the use of these Cookies, which generate Data processing necessary for the pursuit of our legitimate interest, namely the proper technical management of the Website.
These are mainly session Cookies allowing authentication and connection to the Website as well as the memorization of navigation elements during a session (for example to ensure the authentication of the User by memorizing the means of authentication during a session, or the choice of a default language, etc.).
(b) Cookies that are not strictly necessary ("non-technical cookies")
The Cookies we use record information about your preferences and allow us to tailor content to your interests.
These Cookies include third party Cookies that may be installed on the User's terminal when he/she browses the Website. The purpose of these Cookies is to share social network content and to analyse your browsing.
An information banner is displayed on your first visit to inform you before these cookies are deposited and their precise purpose and to allow you, if necessary, to accept or refuse the cookies linked to the display of personalised content, targeted advertising and statistics by opposing their deposit on their terminal.
Once these settings have been made, they are themselves recorded by means of a cookie in order to keep them in memory.
You can accept, refuse or restrict the deposit of non-technical cookies on your terminal by clicking on the "Accept", "Refuse" or "Set cookies" button. This last feature will allow the User to manage his/her choices by giving him/her the possibility to modify his consent according to the purposes pursued by the cookie. Furthermore, you can amend your choices at any time using the "Manage my cookies" icon located at the bottom left of your screen.
You also have the ability to set your browser to accept all non-technical Cookies, to notify you when a Cookie is sent, or to indicate that you do not wish to receive such Cookies.
The information provided by non-technical Cookies may help us to better analyse your browsing experience on the Website.
The retention period for choices (consent or refusal) to deposit cookies will not exceed six (6) months from their first deposit in the User's terminal, except for audience measurement cookies, which may be retained for a maximum of thirteen (13) months, and the information collected through these tracers for a maximum of twenty-five (25) months.
ARTICLE 11. COMPILATION OF STATISTICS
We may collect and process your Data for statistical and analytical purposes in order to analyze the rate of traffic on the Website and your preferences in order to improve the Website.
Similarly, we may collect and process your IP address for statistical and analytical purposes in order to analyse the number of visits to Lem&Co's Social Networks.
As indicated in the table above, this processing is based on our legitimate interests, including the development of our business.
ARTICLE 12. AMENDMENT OF PRIVACY POLICY
We reserve the right to amend our Privacy Policy and will notify you in advance by means of a special notice posted on the Website.